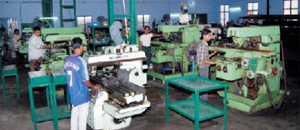 Manufacturers of Engineering Components
New Randhir is one the leading manufacturers of precision components of Bar and Sheet Metal. Established by Mechanical Engineers with rich experience of auto industry we have the vision to become market leader and to exceed customer's expectations by offering the very best of value added products and services. We provide solutions to any kind of machinery problems. It includes preparing process sequence and subsequent designing jigs, fixtures, gauges, cutting tools and any other special facility. We also get these tools fabricated for our customers. We are self certified vendor of all components as a mark of quality and dedication towards our avid customers including worldwide network.
Our customer-oriented policy equips the customer satisfaction & match their needs with our products. We have latest machines and equipments with in-house facility for tool room, calibration, production and processing with talented team of engineers, Quality Assurance and Shop Floor People. Our infrastructure is well-equipped with dynamic productions production units like parting section, milling section, turning section, grinding section, drilling section, heat treatment section, welding section, press section, threading section, broach section and proper arrangement in case of power failure in each section and latest machines like power press, pipe bending, butt welding, induction hardening etc. We believe in continuous innovation to meet the desires of buyers compatible with current scenario.